You will find a link to a Colmar slide show at the end of this post!
Well..my Editor has finally caught up with my publications. Minor corrections have been made…my most serious faux pas occurred on yesterday's post. If you look at the keyword list on the right and click the word Correction you can find other entries that are corrected.
I thought you might like to see what coffee making is like in the wohnmobile…
So the big glitch with the coffee plan is the supply of good, fresh roasted coffee beans! When you live in a place you get to know the best sources for things like coffee (or curry or fried rice or fresh fruit or ice cream!). It is a different story when you are on the road. With only a two-day supply left, we went all over Bad Homburg looking for our next 250gms of coffee beans. (Never buy more than 250gms because by the time you get to the bottom of the bag…the beans are getting stale.) We found a sweet tiny little chocolate and coffee shop. They swear their coffee beans are fresh and today was their last open day. They close for the summer.
And speaking of ice cream…I thought I had the very best ice cream (gelato) ever ever ever in Vienna…except for the ice cream that we used to make on my Father's Mother's Brother's milk farm near Joplin, Missouri when I was a child. Fresh milk. Full cream. No pasteurization. It was the best tasting plain vanilla ice cream. It was made in a wooden hand-crank-ice-cream maker. We each had to take 5-minute turns and it took about an hour. For an eight year-old, five minutes is an eternity and an hour is even longer.
But the ice cream at this gelato bar in Vienna…near Mexico Platz…was very delicious.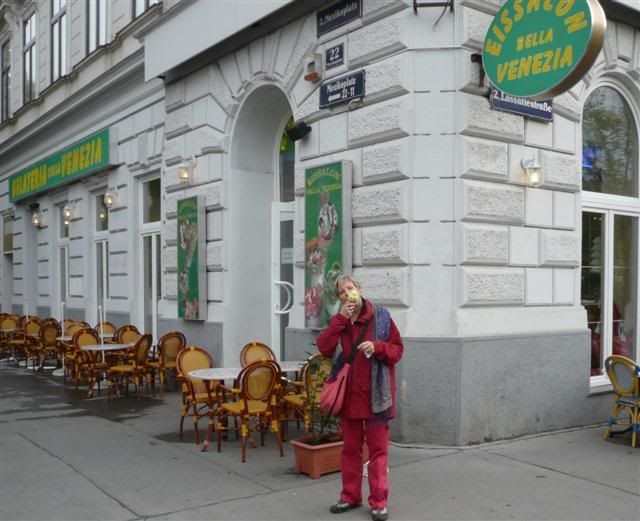 My favourite was the pistachio. But then! Something miraculous happened. Not only did we have even more delicious ice cream in Munich…I had a cherry ice cream to die for…
Here is a Colmar slide show. Another one tomorrow and next up is Freiburg and Heidelberg.