I am going through my Colmar photos trying to decide what to publish. I am limited to 30 photos per slideshow…this limitation is a function of the photo hosting service that I use.
So first I quickly peruse through the photos grabbing the best for a shortlist. Then if there are more than 30 photos…I just have to be critically ruthless. It usually doesn't take too much time because my shortlist typically counts around 30. I'd like to think I'm a good photographer but it's just a numbers game and the law of averages. On average I snap 300 photos per day (because that's about how many will fit on my memory card). Only one in every 10 or 20 shots is relatively good. (Spectacular photos are few and far between.) What I'm trying to say is that it's usually easy to get to a shortlist. But Colmar!
When I took the first round of photos, we didn't know at the time that we would be in Colmar for three days. And I was so gobsmacked (an Aussie expression) by what I saw that I was manic. And Slice on the bike was manic, going up and down and around every single lane. And because it was gorgeous gorgeous sunny weather the whole time we were there….I got lots of great photos. I took 1200 photos of Colmar. I've perused the first 400 photos and my initial shortlist is 200 instead of maybe 40.
So here are just a few more photos of Colmar….to keep you satisfied while I work on 2 or 3 slide shows. I hope you're not going to get bored with medieval.
Most of our photos of Colmar are from the central part of the town but the main road leading into the center (a five minute bicycle ride from our camp site) was littered with wonderful old buildings.
This was one of my favourite. Not very colorful but I love the earthy just as much as the more colorful and elaborate buildings. We passed this one a dozen times going to and fro and it always caught my eye.
To Colmar….


From Colmar, there it is again ….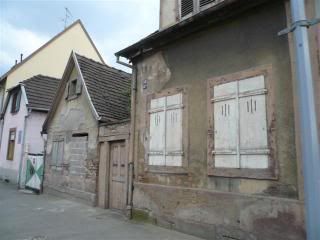 A couple more earthy pieces in central Colmar…..
This next photo was taken late in the day…the light is not great but it is a good view of one of the main avenues in the seriously-medieval section of Colmar. We were sitting at an outside cafe. I set the camera on the table and proceeded to snap photos of people walking by…I got some very interesting people photos which I'll put in a slide show.
This is a good teaser…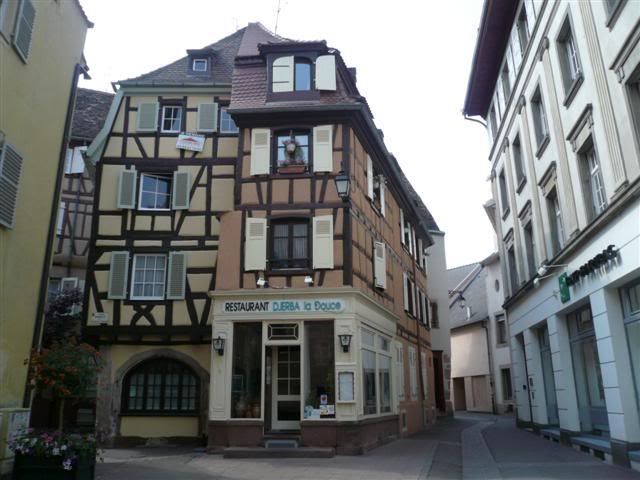 And well…I just can't help but include…what else? Another kirche…St Martin's. Circa 1235 and seriously gothic. At the other end of this church (see the steeple) you find a main entrance. There we sat in a plaza where we drank a coffee, gazed up at the steeple in awe and listened to the 6:00pm bells call the devoted to mass. In Islam territories you hear an arabic voice call to prayer. In catholic territories you hear bells do the same.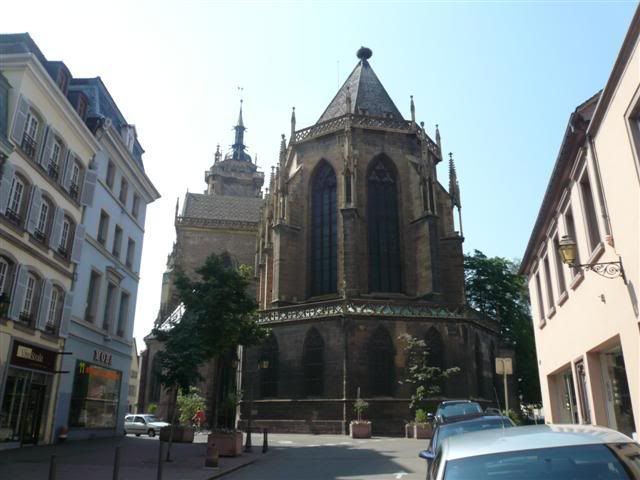 Until tomorrow…I leave you with this little gem….