Many of the historical buildings we encounter have some information about their history and I try to photograph the information. This sign was on the front of the building I posted yesterday.
It says…Ancient Municipal (something) Hostel (or Hotel) Old Town Hospital Accomodation 1426 Certificate First Publican Hans Schmid Von Mindersdorf
When my resident German teacher is finished watching the soccer (Germany vs Austria in the European Cup) and translates Spitaelische for me, I will replace the "something" in the above sentence. I can't find it in any of my German dictionary references!
This is a side view of the same building…..
And I love to photograph the doors because they are often very small…because people were shorter in those days…it is hard to get a perspective on the size of the door…it would be better if Slice was standing there with his head bumping the arch but he is usually several steps ahead of me…
Below is the 500 year-old church…tomorrow I'll have a slide show (and a video…I think) of the inside of this church. I took 400 photos on this day so I'm wading through to pick out the best!
I did a video because we were walking methodolically around the church instead of the usual helter-skelter pattern and I was just about to move to the front to take a photo of the altar when the organ burst into song. A wedding party marched in…there were dozens of tourists wandering around but no matter. So we moved to the back of the church and watched for a bit and then took a short video of the altar and it turned out very well.
And so….I leave you with the next two shots …and the quality I think is terrible because it was a very cloudy day. It was also late afternoon so the light was not good…but look at these two photos of a astrological sun dial on the top face of a building……so neat!
You can see on the face of the clock that this was done in 1952…so not old but still very interesting.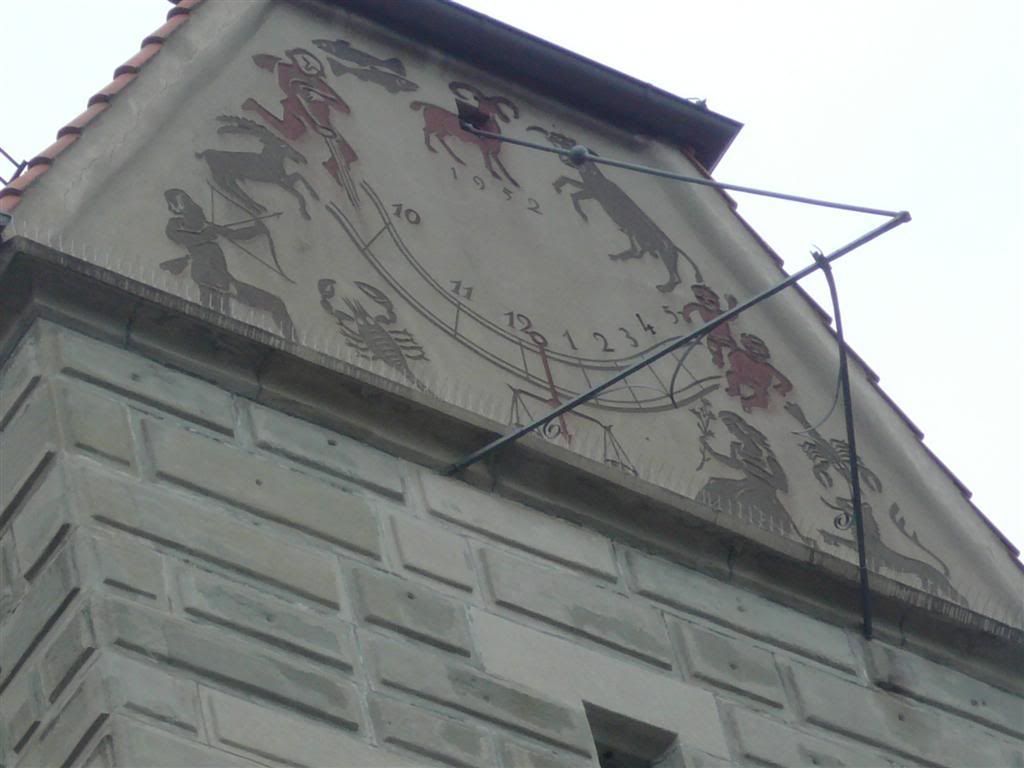 These photos are all still in Ueberlingen on the Bodensee (apologies to Herr Schneider because I am not using a proper umlaut!)