Now that we are inside Angkor Wat we are heading towards the central stucture with the five towers. (See an aerial view on Wikipedia.)
Next is not a great photo but I've included to give you an idea of where this tour of photos starts…we entered this temple structure in the left corner…

By this time we…our tour group..have already spent 45 minutes to an hour in the temple grounds.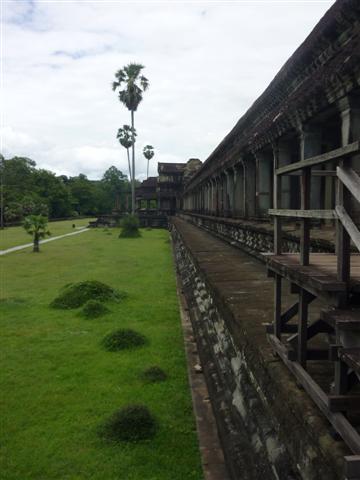 This is the outside of the first of four long walls of incredible bas reliefs…each approx 150 meters or 450 feet.
We saw 2 or 3 of 4 walls. One wall was definitely closed to restoration work but I can't remember now how many walls we actually saw. I just followed, listened and took lots of photos!

In this photo I set the camera on the floor in the hope of getting a better view of the length of the relief that is on the right.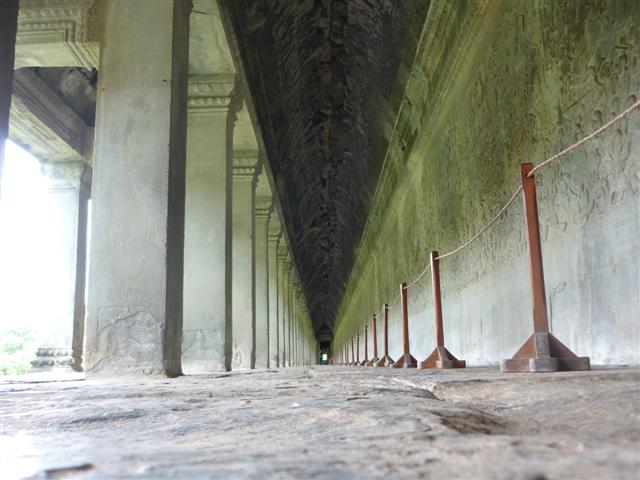 And a closer view of part of the relief…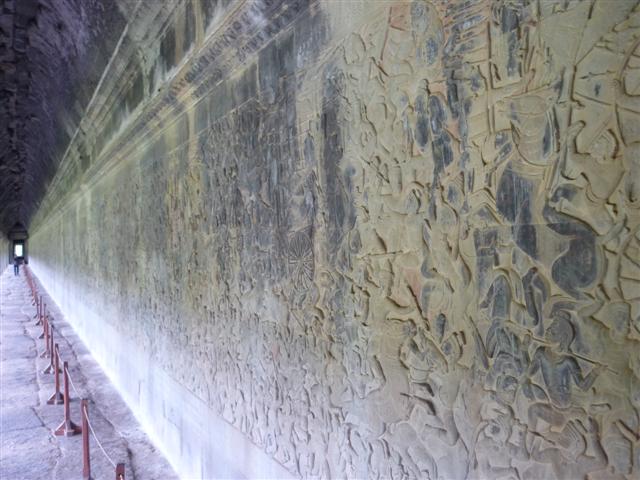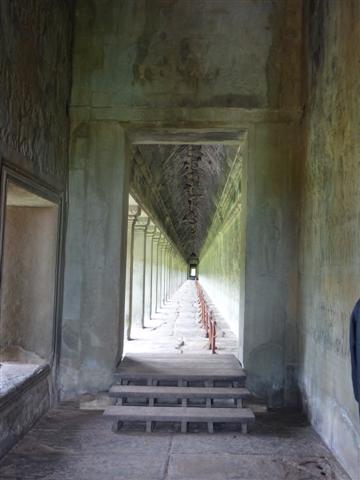 And the view as we're moving way from the wall…I really loved the perspective of these magnificent long balconies!
Now we are moving towards the center of the temple structure…
If you haven't noticed…in this post…I haven't shown you much of the detail of the carvings. That's because at the end of this post is a 10-minute video with lots of detail.
But here is a photo of some of the Apsaras. The Apsaras are one of my favourite religious icons.
A few more photos of the majestic temple structure…
And here we go up into that part of the temple where no one but the King entered. (Well there were others allowed but only at the invitation of the King and I think the guide said holy people.)
So here I leave you with a complete slide show of this part of our Angkor Wat tour. It includes many shots of the carvings. It's all in sequence and includes a tour of the King's sanctuary found at the top of those stairs.
Note! To the left is a closeup of the video control that you will find in the lower right hand corner of the video. If you click on the square indicated by the red arrow (but down in the video control) you will get a full screen of detail!
And this time I've included music which is Sunda Gamelan music from Indonesia.
I hope you enjoy it.