Just a quick post…a simple gallery of the basic ways that poor Cambodians work hard to make a meager living. Don't miss the short video at the end of some Cambodian women working by the roadside.
Every morning there was a parade of coconut vendors as they made their way in different directions to sell their wares.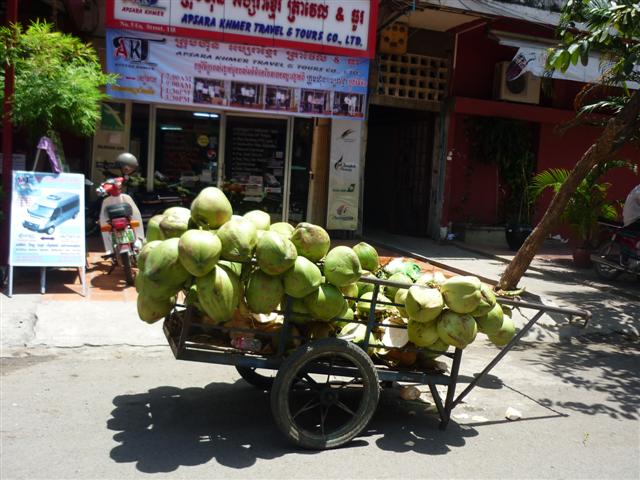 The sign on the back of this Tuk Tuk says it all.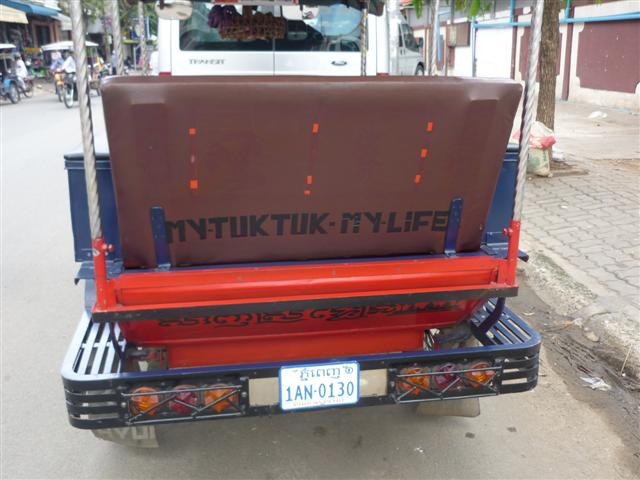 Another common site…roasting a calf…
Need a haircut? This Barberville was outside the back wall of the Temple. We walked past it many times as we made our way to the best coffee place (Cafe Fresco below the FCC) and each time someone tried to convince Slice he needed a hair cut!
Selling steamed….sometimes roasted corn.
This man is hauling a big pig…
A TV lounge…these were common right across the city.
These women were selling oranges (yes green oranges) and corn.
Still a common site in Cambodia…the Rickshaw driver.
Selling snacks…
This woman is buying sugar cane so I'm guessing she has a stand where she'll offer the sugar cane in one form or another … juice or pieces.
Salt any one? This was just one of many in a row of side-by-side salt shops.
My favourite…the broom man. These simple handmade brooms are works of art.
On one of our many walks around the back streets of Phnom Penh we happened on a gentleman roasting coffee. In the background is the rusty tumbler. And the rust-covered box contains the coals. The tumbler fits into the box and is then rotated over the coals to roast the coffee.
Voila! Roasted coffee. This was just outside the doors of a cafe where the coffee was to be used.
This photo was taken at a local market…these lotus flowers are commonly purchased for temple offerings.
More snacks for sale…
Rice…like the salt shops….this is one of many in a row of side-by-side rice shops.
A Delivery Man!
Selling bread…French baguettes actually…a legacy of French colonization.
This little boy was sitting among items for sale on a street that had many arts and crafts for sale.
On the bus trip back from Siem Reap to Phnom Penh we stopped for a few minutes because of road construction. This gave me the opportunity to film these Cambodian women working by the roadside. They were cooking their wares which they sold to the construction crew. They are roasting corn and to the right is a basket of eggs and the young girl who eventually stands up in the video has bags of peanuts to sell.
It is very short but reveals what may be a hard life and these women are possibly the lucky ones because they are making some sort of living.