Finally…some Malaysia photos for your consumption. Sorry for the delay.
To kick off your orientation, here is a google map of Malaysia. You can see just off the east coast the small island known as Pulau Redang.
In the three (almost four) years that we have been in Malaysia, we've been up and down the east and west coasts. Spoiled by the beautiful coast lines of Australia we were somewhat disappointed by the mainland beaches of Malaysia. The best of Malaysian beaches are on the islands…like Pulau Redang. We visited this island in March of 2008.
We traveled by car…Victor…an 18-year old Volvo. It is a 4-hour trip…unless you take a wrong turn (we did) and then it might take you 5 or 6 hours but on very good and modern highways, most of the way. Then you travel another hour on a ferry. Actually…the ferry broke down and so it was another 2 hours before we arrived at a destination that is well worth the trip!
Here is Slice standing on the balcony of our hotel room…
Looking back to the hotel after a stroll down the beach…..
From the lobby of the hotel, a sunset view of the beach…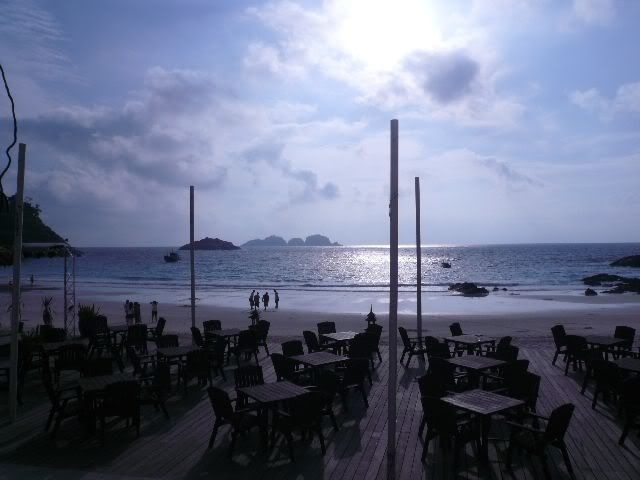 More to come…without delay!