As we traveled from Troyes to La Rochelle in France, we stopped in Portiers for just a few hours to see this very special l'eglise…the Cathedrale St-Pierre…
Of particular interest was this stained glass window of the Crucifixion from the 13th Century (1200) is among the oldest in France.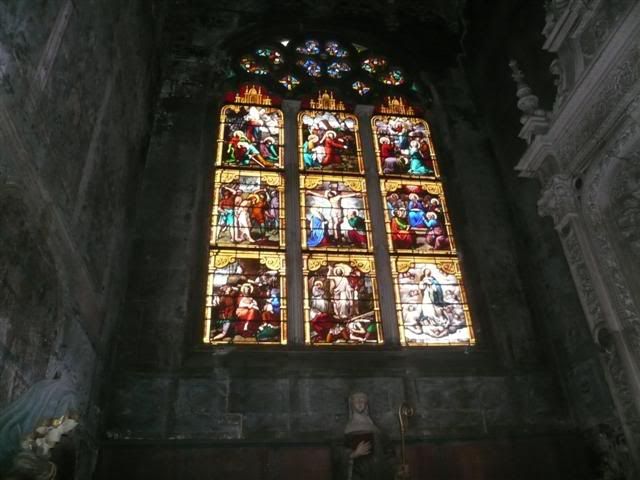 Portiers is very old with a colorful history. A famous and socially pivotal battle in the
100-Years War between France and England was fought here in 14th
Century. It was shameful for the French. They out numbered the
English (who fully expected to lose). In the end thousands of
French noblemen (knights…what is noble about war?) were lost and the
French King Jean was captured. This capture of the King was a mortification for the lower classes who in time took their sorrow out on what remained of the French noblesse because of their failure to protect him.
After seeing this church I kept an eye open for Roman churches. They tend to be more ancient, unusual and while very colorful they seem warmer; the materials are more earthy and some of the art is in some ways almost primitive.
This church was very dark and so photo-taking was a challenge. At first glance many of the photos seem too black but look closer…an interesting aspect of color or scale has been captured.
Without a doubt…this is one of my favourite churches ever. I can't remember the exact circa but somewhere between 800 and 1100 AD.
There was an even older church to be seen in Portiers…also Roman and built in 200 AD. Alas! We didn't learn about that church until we were long gone from this town.
Most of these slides are of this Roman church in Portiers with a few shots of the surrounding Portiers street scape included.