Doesn't the title of this post sound like it is going to be a great story?
As Wohnmobile dwellers…we are not typical.
We don't have a Smartcar….
Or a satellite dish…
Even though we didn't have a dish…
….we managed here and there to catch the news on a PC using a USB TV receiver.
Rception was best in Germany.
We also didn't have a Hill's Hoist, an Australian invention for drying laundry. We saw more than one minature Hill's Hoist standing behind various Wohnmobiles…these were the English tourists!
Our clothesline was rather more primitive…
We also didn't have any sort of pet…like this poor leashed cat…
And I can't decide which takes the cake…the very large caged parrot I saw one morning through the window of a departing Wohnmobile…or…
These four big furry white dogs…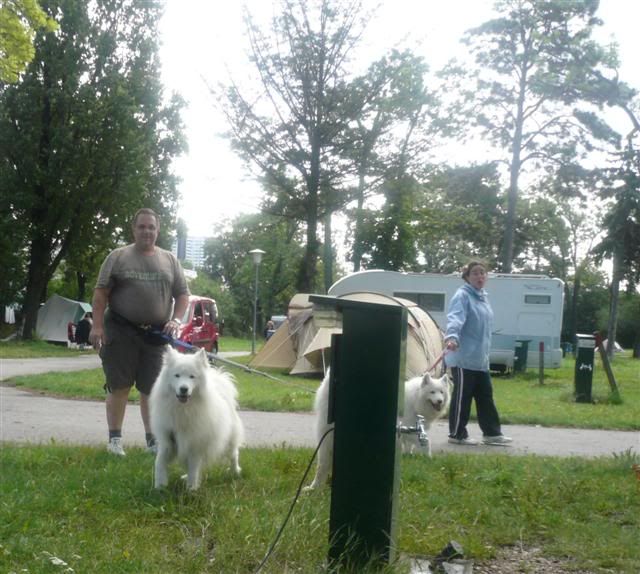 that lived in this vehicle…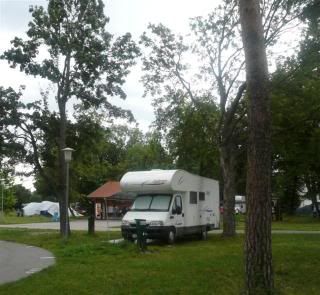 and they never barked!
The dog photos were captured at a city campsite in Vienna. They traveled all the way from Spain and I was ever so curious to know how they spent their days because the whole family…dogs included…disappeared every day leaving the Wohnmobile empty. And during this time (mid-July) the weather was quite miserable with lots of rain.
Four big furry wet dogs in a Wohnmobile. Wahnsinn!