We've been to so many places since leaving Vienna on the 26th of July…I am starting to lose track. I thought I should do a map…it's a Google map…and you can follow the trail of where we've been as I backtrack to update the blog.
On the map, start at Wien (highlighted by the big blue triangle) and follow the blue line west all the way to La Rochelle, then follow it south before you follow it north.
After leaving Aachen, we were heading to Hamburg (where Slice was born) but with dismal weather forecast for that area (brrrrr!) and time running out (we have to start thinking about selling Le Camping Car), we decided to leave Hamburg for another trip.
So, after visiting …
(Cologne) we turned south to the upper Rhein (Rhine) Valley. Our first stop was just 40kms south of Cologne at Bad Godesberg (near Bonn). We stayed at a beautiful little camp ground…
…right beside the river…that is a castle in the distance (the left photo below see a large version here).
After Bad Godesberg we stopped at St Goar…in the area where the blue line (on the google map) ends. This is where we've spent the last 4 or 5 days relaxing beside the river…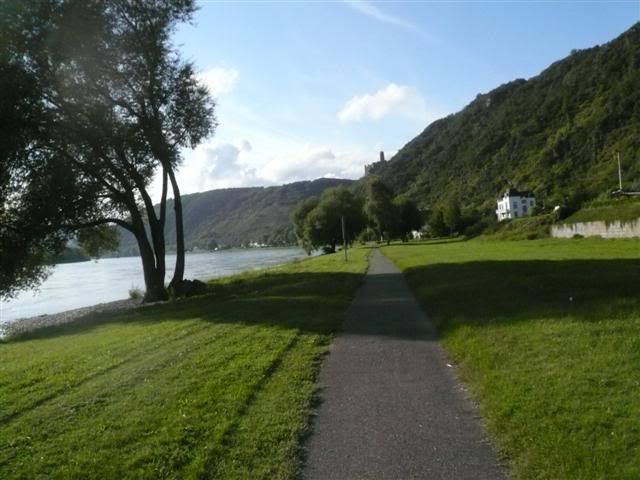 …surrounded by castles…
And we've been…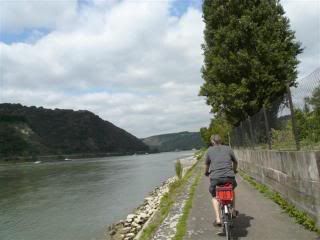 …up and down the Rhein. You can cycle all along the river from Holland to Switzerland. The other day we rode north 16kms (32kms round trip) from St Goarhausen to Boppard (saw a thousand year-old church). Today we road 30kms to Bingen (past the most interesting medieval town of Oberwesel…there is a medieval town complete with castle around every bend). From Bingen we caught an old-fashioned riverboat back to St Goar. It took just as long to go the distance on a riverboat as it did to cycle (1 hour 45 minutes).
Next trip…we think we'll forget the Wohnmobile idea and just cycle across Europe. Any takers?