Yesterday we toured two temples in the Angkor Archaeological Park. We were supposed to see 5 temples but we abandoned the tour at 2:00 in the afternoon after seeing Ta Prohm and Angkor Wat because our time in the area is limited. We wanted to spend some time walking around Siem Reap and we're quite sure we'll be back!
We were collected by a mini van at 8:00 am and by the time we stopped at the first temple there were 10 of us…1 Khmer, 3 Germans, 2 Americans, 3 Brits, 1 Mexican plus our Khmer guide…who's name I consciously repeated 10 times and still cannot recall it! He was very fluent in English and extremely knowledgeable about the temples and the warring history of Cambodia.
Angkor Wat is the most famous of the 1000 temple ruins in this area…and while it is certainly an astounding and magnificent structure to behold…if I had to choose between the two…I enjoyed Ta Prohm more because of the way nature has taken over.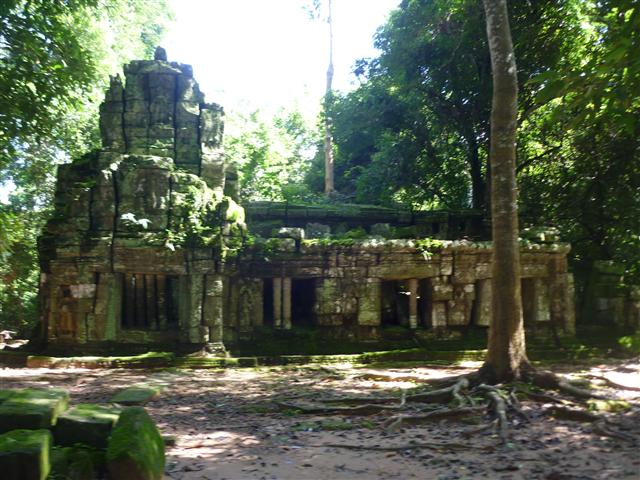 Restoration of Ta Prohm began in earnest in 2010 and the guide said that they are afraid to remove the trees because the tourists love them…as you will see in some of the following photos.
These Strangle Figs are called Sprung in Khmer…

The roots seem larger than the trees themselves.
Is this a root or just part of the tree? I don't know.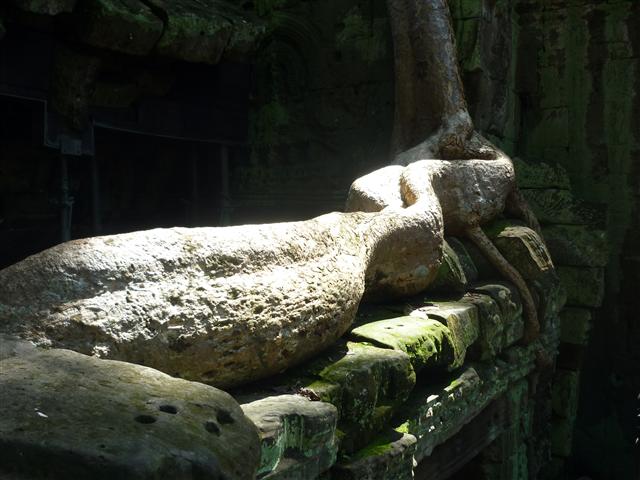 Clamouring to be photographed with the Strangler Fig…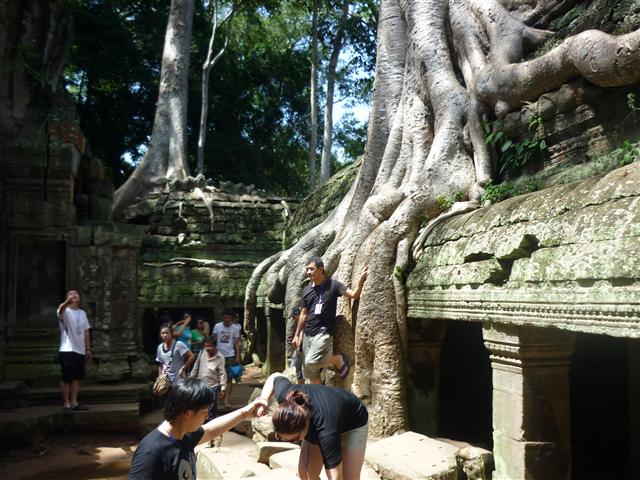 Now for some details. I took 350 photos at this temple ground. Here are 10 of the best…
I leave you today with this image of Buddha framed by the roots of a Strangler Fig…I never would have seen this if it weren't for one of the guides who noticed that I was interested in the details. When I took a photo of the dinosaur (two photos up) he said Did you see the Buddha framed by the roots? and we retraced a path back through the temple grounds. He said few people ever notice this.
Ta Prohm in it's original form was a Mahayana Buddhist monastery and university built by King Jayavarman VII in the late 12th century.
Tomorrow I will post photos from Angkor Wat, a Hindu temple built in the early 12th century and said to be the largest religious structure in the world.