If the French are not famous for their Eiffel Tower, the French Revolution, Cognac and Champagne surely they are famous for their cooking. I think all French are born gourmets.
And whenever I am with Le Frogge…I find myself in the kitchen. He is absolutely a gourmet and over the years I have gladly submitted to his instruction in the kitchen…I am L'Apprente and he is Le Chef!
Thus, for the Sunday family meal we made a simple, delicious, and classic French dish…
Pick these fresh from the garden…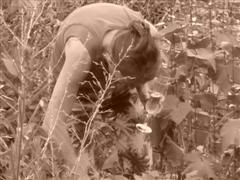 …while sipping champagne!
(Le Frogge's Sister M!)
You need some potoates and onions, too!
Peel and thinly slice the the tomatoes.
Peel strips of skin from the zucchini so that you end up with stripes…then thinly slice.
Thinly slice the unpeeled potatoes…if you slice them too thickly…they won't cook completely.
Then…caramelize some onions…
Thinly slice the onion, toss in a skillet with some olive oil and saute for a minute or two.
Add some white wine (oh you know…a little more than a splash or two) and saute for another minute or so.
Then sprinkle with sugar…not too much…just a little…and cook a few more minutes until the sugar carmelizes.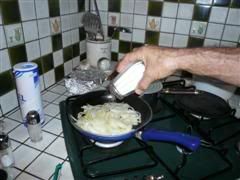 The onions do not need to be completely cooked, just caramelized.
Mix the four ingredients… …(tomatoes, zucchini, potatoes and caramelized onions) together.
Add some grated cheese (Gruyere or Emmental) and mix again before spreading in a liberally buttered oven dish (not a pan…a dish).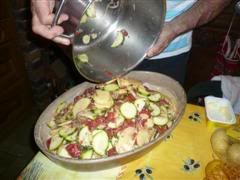 Layer the top with more thinly sliced tomatoes… …
Place in a hot oven (200C or 400F) for about 20 minutes.
Then turn the oven down to 150C (300F) and cook for another 20 to 30 minutes.
And for the last 10 minutes spread the top with more of your chosen grated cheese (au gratin).
And as the French say…Voila!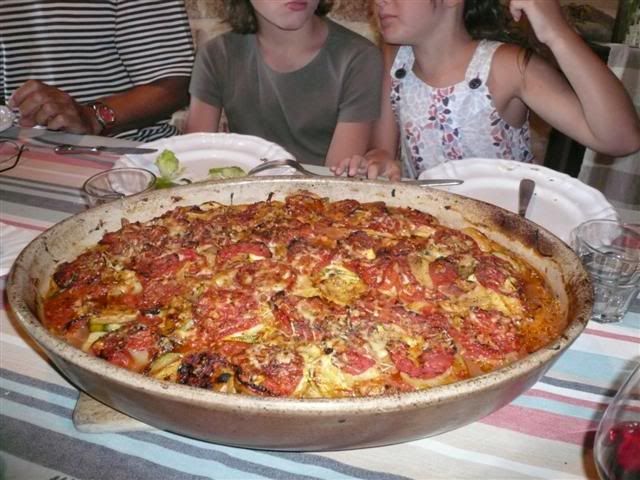 This is Au gratin. You can do this with many different combinations of vegetables.
In addition to the gratin we had Le Poisson…caught by Le Beau Frere and his Petit Fils.
This fish was so sweet and delicious…and See…La Niece…made a delicious buttery citron white sauce to accompany. For dessert we had fresh Peche…undoubtedly from a family member's own fruit orchard…prepared with a tiny bit of sucre.
The Sunday Meal at M's place near Marconnave…a village not far from St Andeol…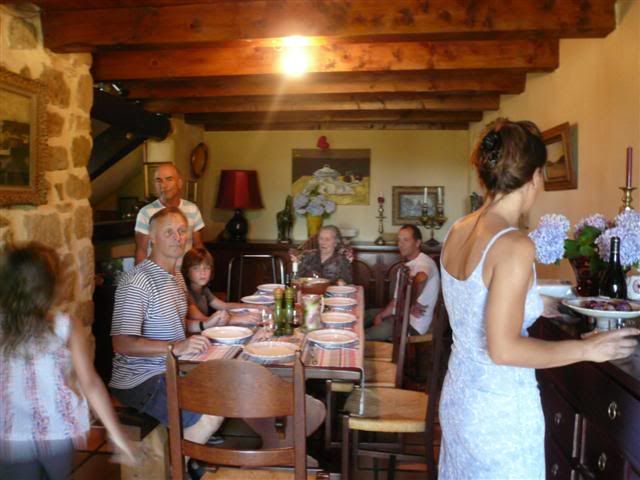 (Apologies to the French purists…my blog won't let me properly write the French characters with accents, carets, etc.)
Next up is a slide show of the Les Vans area…about 60kms from St Andeol. Here we visited Le Frogge's niece Eee and took a walk in the forest for a view of a prehistoric ruin.