I hope you haven't given up on me. Our hosts here in Bad Homburg returned from their holiday (we house sat) and so in the last week (in between watching the European cup and eating) we've had a world-wind tour of the area. No time to scribe!
I will flashback to do a Freiburg and Heidelberg feature but present in my mind are the sites we've seen in Frankfurt…like The Dom (aka Cathedral St Bartholomäus) a church with the oldest history that we've encountered thus far…the original church on this spot was built in 852 AD and then replaced in 1235 with the structure that stands today. As with all of the old churches there is some part of it that originated in a given year and then additions were made throughout the centuries. I recently got an education in medieval church art and thus I am willing to bet that some of the pieces in this church are around the Circa 1050…almost one thousand years old…perhaps saved from the first structure.
Most of my photos from excursion were a disaster…don't ask me why. It wasn't the worst light I've encountered…I was just sloppy!
Here is my best photo…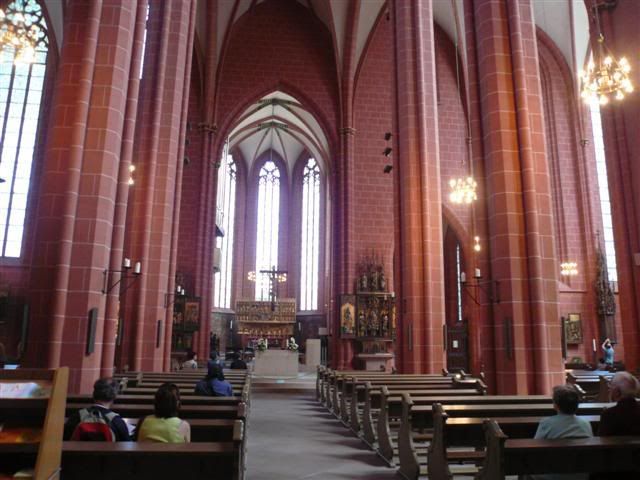 And here is a slide show with more Dom shots including some buildings in the surrounding plaza.
Here in Bad Homburg (a 12 minute drive from Frankfurt) there is an area
called Altstadt (Old Town). I love this little medieval village
because unlike Colmar or Heidelberg it is not a tourist attraction. People simply and quietly live here. It is wonderful to meander through on the bicycle…very peaceful and no tourists!
These photos are from a bridge looking down into the Aldstadt.
And here is the last of my Colmar photos.